Did a volcano birth the modern vampire?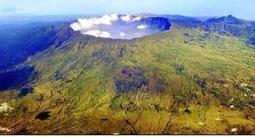 In April 1815, the most powerful volcanic blast in recorded history shook the planet in a catastrophe so vast that 200 years later, investigators are still struggling to grasp its repercussions.
I'm gonna have to take exception with this article. Not with its assertions of the impact of the eruption of Mt. Tambora in the East Indies. It gets all that right. 1816 was known in Europe and the United States as "the Year Without a Summer," due to the affect the tons of ash erupted from the volcano had on the climate. Cold, wet, and gloomy replaced the normal and expected sunny and warm/hot weather patterns, and may have helped to inspire the creation of one of our world's greatest monsters—the one stitched together by Baron Victor Frankenstein. Stuck inside their lakeside Swiss resort by lousy weather, the poets Lord Byron and Percy Shelley, along with Dr. John Polidori and Percy's young fiancée, Mary, engaged in a contest, each writing a ghost story. Mary, as we all know, wrote FRANKENSTEIN—and won the contest.
Polidori's story, THE VAMPYRE, is sometimes erroneously credited with creating the literary vampire in its current incarnation as a suave, cultured aristocrat. This is only partially true. This vampire, presented as such, was already appearing in fiction by the time Polidori put quill to paper. Granted, Polidori brought that iteration to the forefront. Let us say he carried it about halfway to the finish line, where an Irishman named Bram Stoker picked it up and carried it the rest of the way almost a century later.
source: timesofindia.indiatimes.com
WAYNE MILLER is the owner and creative director of EVIL CHEEZ PRODUCTIONS, specializing in theatrical performances and haunted attractions. He has written, produced, and directed (and occasionally acted in) over two dozen plays, most of them in the Horror and True Crime genres. He obtained a doctorate in Occult Studies from Miskatonic University and is an active paranormal investigator. Is frequently told he resembles Anton Lavey. And Ming the Merciless.
Denn die totden reiten schnell!